Zoning map of Park Güell

Park Güell is one of Barcelona's iconic landmarks due to its architectural and historical heritage, as well as its value as a natural and biodiversity site. The park contains two large areas:
The monumental area, declared as a world heritage site, which covers 12 hectares.
The adjacent woodland area covering 8 more hectares.
Access to Park Güell has been regulated since 2013 to prevent tourist overcrowding.
Admission control is designed to prevent overcrowding, manage movement and build-ups of people in the heritage section and ensure safety, correct use, conservation and the quality of visits.
There are parts of the park with a high concentration of visitors. These are found within the section that has a second controlled access point, where visitors follow a one-way route and are likely to have to wait to visit them. These points are: Pl. Natura, the Hypostyle Room, the Laundry Room Portico and the Dragon Stairway.
This regulation restricts the visitor capacity of the monumental area to a maximum number of 1,400 visitors/hour, and tickets are required to access. Anyone who is on the Gaudir Més Register or who has a Park Güell local-resident card can visit Park Güell free of charge. All other visitors must buy an entrance ticket, preferably online, for safety reasons, to avoid outside queues.
Local residents registered as living in the neighbourhoods of La Salut, Vallcarca i els Penitents, El Coll, Can Baró, Baix Guinardó and El Carmel also have the right to apply for a free-access card. They can apply for the card by calling 010 or via the municipal website.
Children from schools located inside the park and in its immediate surroundings —Baldiri Reixac, Reina Elisenda Virolai, Jesuïtes de Gràcia, Turó del Cargol and Escola Montseny— are entitled to free access.
Access points are regulated the whole time. However, the early morning time bands (7 to 9:30 am) and the evening ones (8 to 10 pm) are reserved for citizens. Between 9:30 and 7:30 pm, access is shared between citizens and visitors. To make this possible, there are a total of 9 entries: four meant only for neighbours and citizens, four for visitors and citizens and one exit point located at carrer Olot.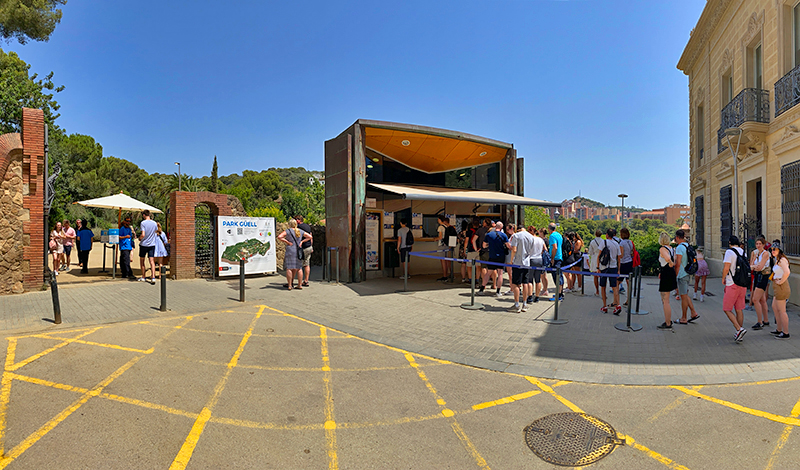 UNESCO
Antoni Gaudí, world heritage
Program Gaudir més
Once registered, you can access for free or with discounts to various facilities and museums in the city.
Card for the neighborhood
The procedure allows the card to be requested to residents of the neighborhoods adjacent to Park Güell.