Eusebi Güell's architects: Joan Martorell and Antoni Gaudí
The association between entrepreneur Eusebi Güell and architect Antoni Gaudí began when Güell saw a window display that Gaudí had planned for glove retailer Esteve Comella at the Universal Exhibition in Paris in 1878. That same year, Güell commissioned him to make the furniture for the pantheon chapel at the Palacio de Sobrellano in Comillas, a town on the Cantabrian coast, for his well-heeled father-in-law, Antonio López y López. The architect of that magnificent neo-gothic chapel was Joan Martorell i Montells, at whose studio Gaudí had worked.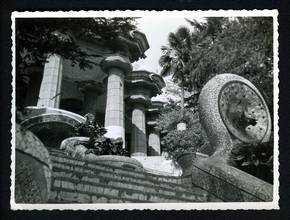 Park Güell, © Col·lecció del Club Excursionista de Gràcia. Francesc Gassó.
Gràcia District Municipal Archives
Some years later, Joan Martorell commissioned Antoni Gaudí with another project, thereby consolidating the association between the two architects. This time it was for the pavilions of the porter's gatehouse and stables of Finca Güell (1883-1887), a property that the Barcelona businessman had in Les Corts, to the west of Barcelona. 
Martorell, an architect enjoying great prestige at the time and whom Gaudí always considered to be his master, was a personality with a very decisive influence on his future production.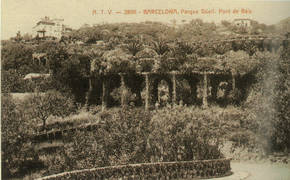 Park Güell, "Pont de Baix",
© Col·lecció Ernesto Boix. Cercle Cartòfil de Catalunya
Güell's major assignments for Gaudí
In 1886 Eusebi Güell entrusted Gaudí with building his new house, the Palau Güell in Nou de la Rambla street in the old quarter of the city. Later, in 1895 Gaudí built a winery in Garraf county in collaboration with Francesc Berenguer. In 1898 he planned the church for Colònia Güell, home to the workers at the large textile factory that the industrialist owned on the outskirts of Barcelona. And finally, in 1900, Gaudí was given the assignment of designing Park Güell.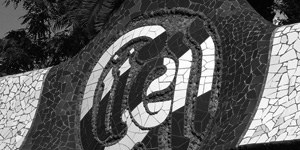 Detail of a medallion in the Park Güell perimeter wall
Güell understood better than any of his contemporaries the meaning of Gaudí's architecture. The relationship between the two men was not simply that of an artist and his patron, but a real story of friendship. 

For many years the Güell family lived in the large family house (now a school) that stood on the land where the development was located, while Gaudí lived in one of the two houses that were built there. 

In the businessman's own lifetime, the park was already considered to be one of Barcelona's great tourist attractions, and the large square was often let for staging Catalanist events, traditional Catalan sardana dancing and other civic and social events.