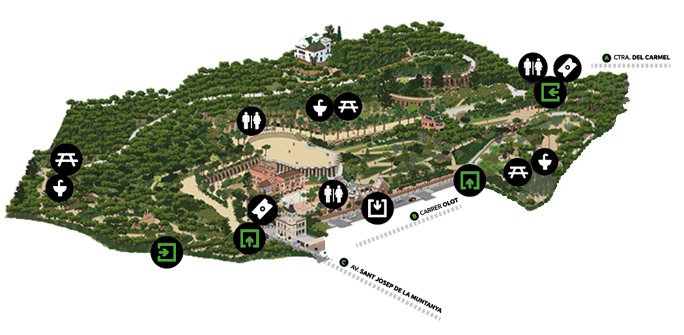 What does the ticket allow you to visit?
The entire 12 hectares of the Park, which include the monumental, forest and panoramic areas.
You must arrive at the access control point at the assigned time so as not to lose your scheduled entry times. Entry will not be allowed outside the times stated on the ticket. 
You have 30 minutes after the time marked on your ticket to enter the site. Once that deadline has passed, you will lose your right to enter.
Once you are inside the Park, you can take as long as you like to enjoy the brilliant architect's work, but once you exit, you cannot re-enter.
Once tickets have been purchased, no change of date or time will be allowed.
Tickets do not include access to the Casa Museu Gaudí.
---
In addition, the following measures have been adopted to avoid the spread of COVID-19:
With the aim of complying with all the preventive measures, some features in "Casa del Guarda" and Laie Park Güell shop have been modified.
Face masks required at all times for staff and visitors.
Hydroalcoholic gel will be available in all our facilities.
For safety reasons, leaflets and maps are not provided. We recommend downloading our free APP.
The cleaning and disinfection of common use areas such as toilets and ticket offices will be intensified.
Safety distance must be maintained even outdoors.
The areas with a high visitor's concentration (e.g. the dragon staircase) will be regulated in order to avoid a possible crowding situation.
BUS GÜELL is currently out of service.
In addition, Park counts on:
Park Güell has several public toilets:
On Carretera del Carmel, just at the Park entrance gate.

On Passeig de les Palmeres, next to "Plaça de la Natura".

Next to the Carrer d'Olot entrance.
People with reduced mobility may have difficulty getting around Park Güell due to its architectural features, with flights of steps and uneven paths. There is a  specific itinerary adapted to people with mobility difficulties.
Two wheelchairs are available upon request at Park Güell. If you have any kind of special requirements, please contact the Visitor Attention Service at parkguell@bsmsa.cat
The tourist coach car park has 3 places for people with reduced mobility.
Pets are allowed to enter provided that they are kept on a lead throughout the visit.
Once you have entered the Monumental Core you will have a free-access Wi-Fi connection. This connection just allows you to get the official Park Güell APP.
Your most complete audioguide

Buy your tickets
With the aim of complying with all the preventive measures, some features in "Casa del Guarda" have been modified.
The Casa del Guarda (Caretaker's House), located at the Carrer d'Olot entrance, is the private space conceived and designed by Gaudí as a house for the Park Güell gatekeeper.
The exhibition Gaudí and Barcelona, expression of an urban ideal, explains the Casa del Guarda, Park Güell and the Barcelona of Modernisme from three standpoints (the House, the Park and the City) which correspond to the three floors of the building. We advise you to find out about it with the audiovisual guide shown inside. For further information visit the web page of the MUHBA-Casa del Guarda.
The ticket to the Monumental Core of Park Güell also allows free entry to the Casa del Guarda. This site has a specific timetable. For reasons of capacity, entry is NOT guaranteed during the last time slots.
Inside the Park there is a restaurant.
With the aim of complying with all the preventive measures, some features in Laie Park Güell Shop have been modified.
A shop and bookshop specialising in Gaudí, modernism and Barcelona. It is located in one of the entrance pavilions of Park Güell, one of Antoni Gaudí's most iconic works.
The shop's range is based on products connected with Gaudi's work and Barcelona, such as postcards and posters, T-shirts and textile accessories, jewellery and costume jewellery, decoration, reproductions and a children's section.
Further information: www.laie.es
(C/ del Carmel, 18)
25 parking places.
5 for boarding and alighting from coaches.
3 places reserved for people with reduced mobility.
Coaches for groups visiting the restricted area can reserve a parking place when they purchase their tickets, which will give them the right to an hour and a half's parking in the Zona Bus coach park.
If the coach park is not full, any coach can use it at a price of 18 € (for an hour and a half's parking). The car park also has 5 places where coaches can pick up their passengers and let them alight. It is IMPORTANT to keep in mind that access from Sanllehy Square may be closed because the parking lot is full. In this case, only authorized coaches or vehicles will be able to access the coaches.
Contact ZonaBus 93 3308799 (Monday to Friday 8 am-3 pm)
Link text